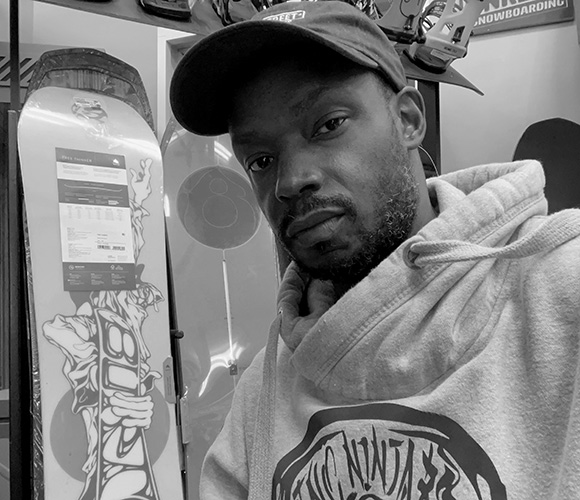 Bronx Program & Community Coordinator
Original hometown?
Corona, Queens
Where you live now?
Williamsbridge , BRONX
Professional/Educational Background 
I graduated from Flushing High School in Queens. Then attended college at Western Connecticut State University.  
I found snowboarding later in life, starting at the age of 30. After 3 years I became a snowboard instructor at Hunter Mountain, NY. Worked 4 years teaching and attained Level 1 certification, before pivoting into snowboard sales. 
Now, I manage a snowboard shop, run ski trips for a bus company, and volunteer teaching snowboarding to underprivileged children from Brooklyn. Completely immersed in the NYC snowboarding culture and community. 
Preferred boardsport and favorite place to do it?
Snowboarding, it was literally a life changing experience for me. 
(I downhill longboard in the summer, to pretend I'm snowboarding)
Where? 
ICE COAST for life… 
First tape, CD or vinyl ever bought?
I became a vinyl DJ in Junior High School, and dj'ed well after College. First practice doubles I purchased was "Ain't No Half Stepping", by Big Daddy Kane. 
Looking to join our team?
Browse Our Job Opportunities