MEMBERS OF THE RED BULL SNOW TEAM ARE BREAKING TRAIL AND ELEVATING ISSUES THAT ARE IMPORTANT TO THEM. READ ON TO LEARN HOW YOU CAN GET INVOLVED, TOO.
This is an excerpt from a story by Mary Walsh and was published on redbull.com on Oct 1,2020. You can view the original HERE.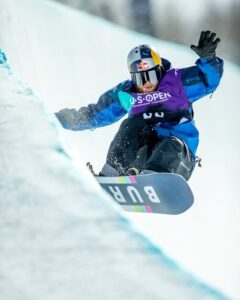 In contrast to the old adage, "no friends on a powder day," community has always been integral to snowboarding and skiing; professional riders on both two planks and one have long prioritized their roles as leaders, ambassadors, and stewards of the mountains. Upon achieving long-held goals of becoming best in class in their respective disciplines, Red Bull's team of riders are quick to give back to the people and places that helped them to get where they are today. Whether volunteering to introduce at-risk youth to the excitement of standing sideways, taking action to combat climate change, or raising money to donate to organizations fighting racial injustice, these pros are breaking trail and elevating the issues that are important to them. Read on to get to know the organizations and causes that Red Bull snow athletes support, and learn how you can get involved, too.
BEN FERGUSON SUPPORTS THE CHILL FOUNDATION
In 1995, Jake and Donna Carpenter, founders of Burton Snowboards, established Chill in order to being at-risk youth into the mountains. Since then, the program has worked with 25,000 kids and young adults across sixteen locations in North America (including Boston, Chicago, Toronto, Vancouver, and Burton's home in Burlington, Vermont) as well as international affiliate operations in Japan, Italy, Australia, Austria, and the Czech Republic. Ben Ferguson has been involved with Chill throughout his career as a member of the Burton team, joining fundraisers and ride day events. "I think Chill Foundation is really great because they get kids on the mountain who wouldn't be able to do that by themselves, introducing kids to the sport and lifestyle I, like so many others, enjoy, while giving them direction and guidance in their personal lives."
Learning to snowboard is just the starting point in Chill; the organization's goal is to use riding as a vehicle through which participants build confidence and resiliency to help them see beyond their current circumstances and conquer personal struggles. "It's awesome to see what Jake and Donna have created, and to see the impact they've mad on the sport and so many people's lives. Being a snowboarder is a great lifestyle and it is a good alternative to other things young kids can be drawn to. The more people we can get Involved in snowboarding the better. I'd love to see more diversity in the snowboarding and its culture."
Get Involved: The Chill Foundation relies on a network of volunteers who give their time to mentor and help teach participants to snowboard, surf, and skateboard. Find a program near you and sign up to make a difference by sharing the love of standing sideways.