This story is by Jed Boal and was published by KSL TV on January 30, 2020. You can view the original HERE.
POWDER MOUNTAIN, Utah – A couple dozen Utah children pushed their boundaries and challenged themselves with a new sport. The kids, who otherwise would not get a chance to go snowboarding, hit the slopes Thursday with the Chill Foundation at Powder Mountain.
Chill is a national organization that aims to inspire youth to overcome challenges through boardsports.
Aubrey Guerrero eagerly geared up for the day with her sister, Anastasia, and her brother, Rhyno.
"Honestly, it's like the most fun I've ever had," said Aubrey.
They participated in Chill through the Boys and Girls Clubs of Weber-Davis.
The first few trips down the mountain on a snowboard are never easy for beginners. But, with continued effort, focus, and a desire to grasp the thrill of the ride, these snowboarding students improved quickly.
Chill was started by the founders of Burton Snowboards. It is a positive youth development program where snowboarding becomes a vehicle for empowerment, and learning some of life's key lessons.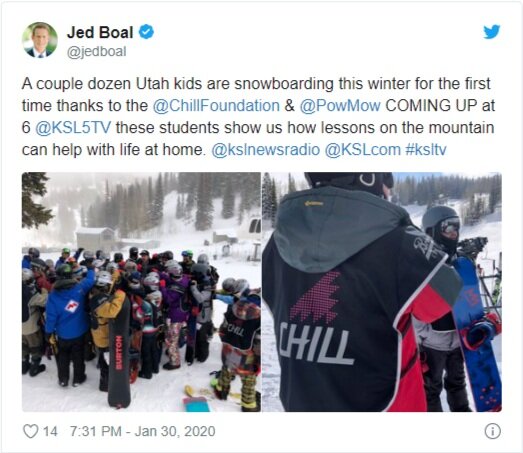 Week one, they focused on respect. Week two, they focused on courage. This week they focused on patience.
Over the next six weeks, the kids will learn to snowboard at Powder Mountain and Brighton, with all costs covered.
Chill Foundation Director of Programs, Zetty Weber, said the kids will also learn a lot more about themselves during the experience.
"The whole idea behind Chill is that we're using snowboarding, skateboarding, and stand up paddle boarding and surfing to inspire them to grow their boundaries, and test their limits," said Weber.
The snowboarding exposes the kids to positive risk-taking and problem-solving on the hill. It can help them build self-esteem and show them that they can succeed at new challenges when they give it their best effort.
"It's adjusting to obstacles. It's adapting to new surroundings and experiences," said Weber, citing challenges in snowboarding that also arise off the mountain.
Chill offers those lessons within a positive, supportive community.
"When you're an adult, it helps you get through obstacles," said Anastasia.
She gained confidence by pushing through the struggles on her snowboard on the mountain.
"That way, you can believe in yourself and what you're doing outside in the world, besides snowboarding," she said.
Chill serves kids already involved with local organizations, helping them with challenges including mental health issues, drug and alcohol abuse, and homelessness.
This is only the third time the Guerrero siblings have been snowboarding, but they already noticed a difference on the slopes, and off.
"By the end of this, I think I'm going to be a pro by the way I'm going," said Aubrey.