Featuring: Troy Millette & the Fire Below, The Craigs (Craig Mitchell and Collin Craig's Acoustic Tribute to Prince), The Owl Stars, and Chris & Erica.
Benefiting Northwestern Counseling & Support Services and CHILL Foundation Burlington.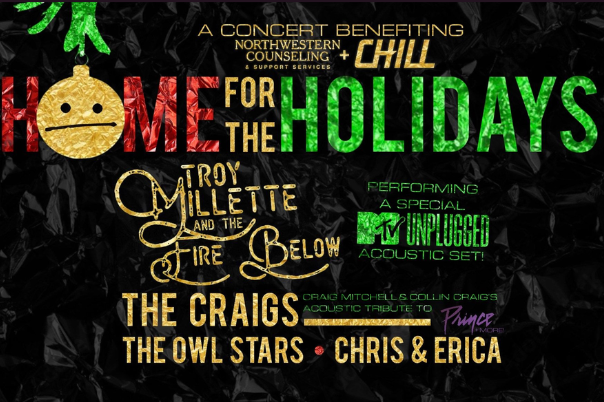 —
TROY MILLETTE & THE FIRE BELOW
What's in a song? A dash of creativity, a few fresh rhymes, and a full serving of heart are the recipe for success according to singer/songwriter Troy Millette, who alongside his band the Fire Below has gained recognition as one of the region's most engaging live acts.
Since emerging on the local circuit in 2009, Millette's emotive and relatable lyrics have made him a staple of dives, clubs, and festivals across the northeast United States and Quebec. In March 2022 he was invited to showcase his talents at the SXSW festival in Austin, Texas. That same year, the Fire Below received the title of Vermont's "Best Folk Group" at the Seven Daysies Awards.
In addition to hundreds of headlining shows, appearances at festivals such as Grace Potter's Grand Point North, and even a promotional run with Senator Bernie Sanders, Millette and company have shared bills with the likes of Counting Crows, LIVE, Bowling for Soup, Trey Anastasio (of Phish), Richard Marx, Rick Springfield, the Front Bottoms, Marcus King Band, American Authors, Josiah Johnson (of the Head and the Heart), Brett Dennen, Dawes, lovelytheband, the Ballroom Thieves, and many more!
The debut solo EP from Troy Millette entitled "Living With A Ghost" is a five-song collection that Seven Days says is "sure to strike a chord with fans of storytelling Americana troubadours such as [Jason] Isbell and the radio-friendly stylings of Kip Moore." The singles that followed, "I Miss You," and "Stay (Please)" have received recognition as a "Monthly Best" from Seven Days Magazine and entertainment blog County Tracks.
Tom Higgenson of Plain White T's likened the pandemic single "I Miss You" to "classic Tom Petty storytelling, with modern pop repetition."
The group's full-band debut, a cover of Taylor Swift's "All Too Well" is available to stream now.
—
THE CRAIGS featuring Craig Mitchell and Collin Craig
An acoustic incarnation of the "booty shakin', sweaty, stinky, funky good time dance party" by Craig Mitchell and Collin Craig, who navigate through Prince's seemingly endless catalog of music.
—
CHRIS & ERICA
Since arriving on the local music scene in 2015, Chris & Erica's unique blend of pop, rock, and country has been in high demand.This musical couples talents earned them an invite to Nashville, where they recorded their first studio tracks with some of country's best session musicians.
—
THE OWL STARS
Comprised of Andrew James and Elizabeth Patterson (both formerly of Citizen Bare), the Owl Stars are an alternative folk outfit often joined by the likes of John Gratton, Dan Gregiore, Jesse Cowan and Ryan Ochs. They released their first EP, "Weird Year," in 2021 and continue to write and develop new music that highlights their individual vocals and soulful harmonies.