When you think of surfing, you likely picture sandy beaches, palm trees, and sets of curling ocean waves. Even if you picture something a little different than that, it's doubtful that you picture Denver, Colorado, the site of one of our most unique surf programs to date.
Yes, you read that correctly. Denver, Colorado. The Mile High City not only sits a mile above the world's most famous surf breaks, it's also one of the farthest inland points in all of North America. Despite these potential wave-riding shortcomings, River Run Park, located just south of Denver, is home to a thriving river surfing scene. This past August a group of Chill participants headed out to get pitted, hang loose, and see what surfing in the Centennial State is all about.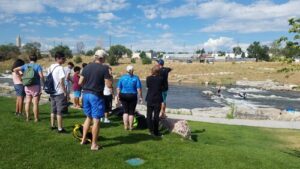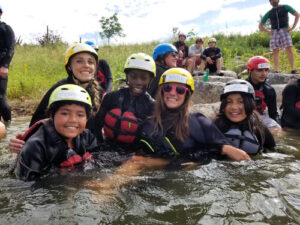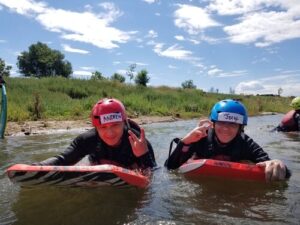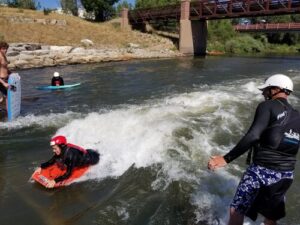 Our super volunteer, David Riordon, an avid river surfer himself, dropped the idea for a program on the river, and set us up with an introduction to the Colorado River School. CRS generously provided everything from wetsuits to PFD's, helmets, river shoes, boogie boards, SUP's, river surfing boards, and even all-star instruction from Lyle and Katie, while the Colorado River Surfing Association filled it all out with a host of volunteers.
River surfing is achieved by using the water's flow over specific underlying rock formations to create a stationary wave. The surfer, facing upstream, can catch and ride this wave with the feeling of traveling fast across the water created by the river flowing underneath their board. To get familiar with the environment, participants began by learning about river currents and swimming though the eddies and waves. As comfort levels grew, it was time to ride the waves on boogie boards, and finally on river surfing boards. By the end of the program every kid had attempted to stand up in the smaller wave, with many successes, and even a few graduates to the bigger wave.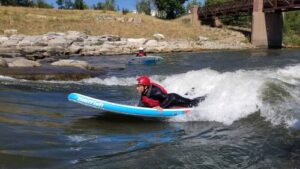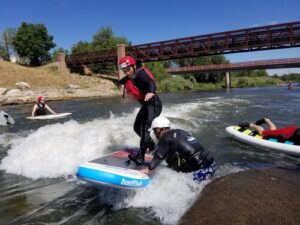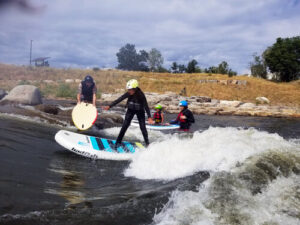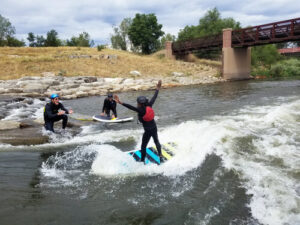 It takes a lot of courage to step out of your comfort zone and try something new, and that's exactly what our participants did. With courage, patience, and persistence, everyone tackled new challenges and emerged with a new-found sense of responsibility for each other, pride in themselves, and some huge smiles! We're already looking forward to next year.
Photos thanks to Katie Crites and Misty Forde.