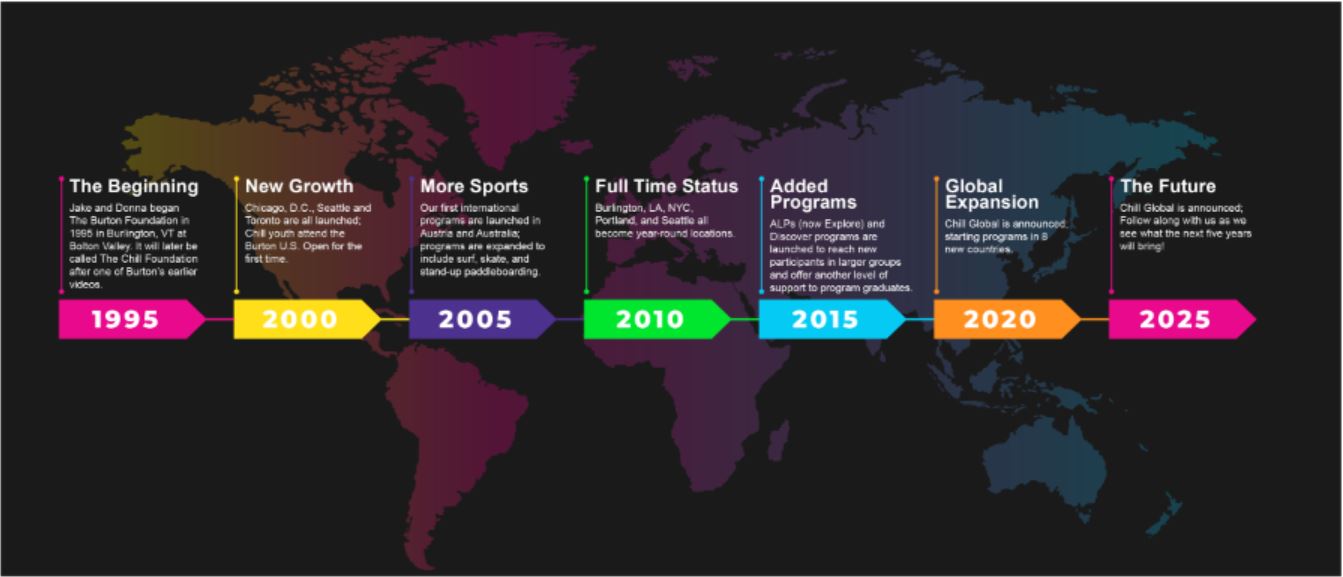 1995:
• Jake and Donna began The Burton Foundation in 1995 in Burlington at Bolton Valley
• The program becomes more structured and runs with about 10 local groups at Bolton Valley Resort two nights a week for 8 weeks
• The Burton's HR Department and Jake's assistant ran the program
1996:
• Seattle is launched at The Summit at Snoqualmie
• Carl Bachman is hired as director of the program from Burlington. Carl is a teacher by trade and was a "Chill" Agency Lead during the '95 season
• Thomas Caldwell, from Seattle, volunteers to ride with the youth. He is the first pseudo local coordinator for "Chill"
1997:
• The Burton Foundation is established as a private operating foundation and registered as a 501c3 charitable non-profit
• Boston is launched at Wachusett Mountain• Carl continues to try to raise money to take the strain off of Burton
• Volunteers in all three cities are running the program locally, but a local coordinator in each city is hired and paid a stipend for their efforts• The programs name is changed to "Chill" after one of Burton's very first videos
1998:
• NYC is launched at Sterling Forest
• Burton decides that the best way to enable continued growth of Chill is to find new sources of support
• Jenn Davis comes on-board as the director in October having been the Boot Product Manager of Burton since the late 80's
1999:
• Seattle program moves to Steven's Pass
• Chill's first year at the US Open; coordinators from NYC and Boston bring a carload of youth
2000:
• Los Angeles is launched at Snow Valley
• Chill brings three youth from each of the five cities to the US Open. Southwest Airlines and Mitsubishi Motors are both integral in making that happen
2001:
• Chicago is launched at the Raging Buffalo
2002:
• Seattle program moves back to The Summit at Snoqualmie
• Salt Lake City and Washington D.C. are launched at Brighton and Whitetail Resort respectively. This is the first time Chill launches more than one city in one season!
2003:
• Toronto is launched at Snow Valley Resort
• First year of the weekly themes
• First year of the National Chill Golf Tournament
2004:
• New York moves from Sterling Forest to Mountain Creek
• Chill brings 30 youth to the US Open
2005:
• Chill's official ten-year anniversary season!
• Vancouver and Denver are launched at Cypress Mountain and Keystone Resort respectively
2006:
• Portland and Prince George are launched at Timberline and Tabor Mountain!
• Baltimore is added as one of the four nights in the DC program
• Michele Boguslofski becomes the new Director of Chill
• The Los Angeles program moves from Snow Valley to Bear Mountain
2007:
• The Chicago program moves from Raging Buffalo to Four Lakes
• Chill runs programs in Australia for the first year
2008:
• Chill announces its future expansion plans into Skate, Surf, and SUP
• The DC/Baltimore program moves to Wisp Mountain
• The LA program moves to Mt. High
• Katherine McConnell joins the team as Chill's new Director
• Chill runs programs in Austria for the first year
2009:
• The Denver program moves to Echo Mountain
• Chill runs programs in Pila, Italy for the first year
2010:
• The Vancouver program moves to Mount Seymour
• Chill makes program reductions bringing operations to two nights per week in most cities
• Chill's official fifteen-year anniversary season!• June Heston joins the Chill team as Executive Director
2011:
• The DC/Baltimore program moves to Liberty Mountain Resort
2012:
• Chill is no longer able to financially support the Prince George program
• Burlington becomes the first year-round site, offering both snow and skate and fundraising locally
• The Local Manager role is created, a full time position split between local fundraising and programming for full time sites
2013:
• NYC, Portland, Seattle, and LA become full time sites
• NYC launches Surf program
2014:
• Denver moves back to seasonal and switches to Loveland Resort• Chicago moves to full time• Burlington launches SUP program• LA and Seattle launch Skate
2015:
• Vancouver, Toronto, and Salt Lake City move to full time sites• Portland and LA launch Surf programs• Chicago, NYC, and Toronto launch Skate• Chicago moves to Grand Geneva Resort
2016:
• Alex Bornstein comes on as Executive Director
• Boston and DC/Baltimore become full time sites
• Salt Lake City and LA become seasonal sites
• Vancouver moves back to Cypress Mountain
• Denver, DC, Boston, and Vancouver run first skate programs
• Boston, Seattle, Chicago, and Vancouver launch SUP programs
2017:
• Chill changes it's organizational structure to create discrete focus on programs and development, moving away from the local manager model• Chill launches 4 new "pop-up" sites with Miami Skate, Detroit Skate, San Francisco Surf, Reno Snow (only Reno and Detroit take-off)
• Boston, Portland, and DC/Baltimore move to part-time year-round program status
• Boston launches Surf program
• Portland launches Skate
2018:
• Seattle moves to a part time year-round program status
• Vancouver and Burlington run first ever ALPs programs. Vancouver includes avalanche awareness training/certification and backcountry splitboarding clinic in Whistler. Burlington includes freestyle and all-mountain coaching at Sugarbush
• Chill Discover Programs launch as introductory/custom programs to introduce agencies and youth to Chill's model through an abbreviated program. Skate and SUP Discover programs run in Boston, Vancouver, Burlington, Chicago, and Seattle
• Boston goes full time with 3 snow programs (1 in Manchester NH)
2019:
• West Michigan launches with snow program at Cannonsburg
• Burlington goes full time with 3 snow programs (Bolton and Stowe)
• Chill holds an in-person Summit in VT for the first time in 3 years
2020:
• Burlington, Vancouver, and Toronto go full time• DC/Baltimore, SLC, and LA move to part time year round• Toronto and DC/Baltimore run SUP programs for the first time• West Michigan and Reno launch skate programs