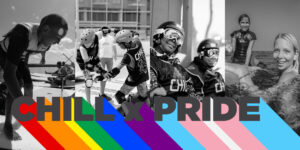 For those of you that know our program well, the word Pride is used as a core value in our Positive Youth Development curriculum. It's deeply rooted in the success, resiliency, and confidence our youth create for themselves. When we talk about Pride, we talk about being proud – of ourselves, our peers, the skills we've learned, and the tools we've gained. We're proud of our Chill community, the new friends we've established, and the goals we've set and accomplished. We are proud and we want to celebrate.
Pride month is an opportunity for folks in the LGBTQ+ community to take Pride in themselves. To be proud of the skills they've learned and the tools they've gained to be out, open, and truly themselves. To be proud of their queer peers and community, and to share and celebrate in a safe, inclusive space.
When we talk about Pride at Chill, we talk about it in the same way the LGBTQ+ community does. The youth that enter our programs come from a variety of intersectional challenges in life, and one of them could be that they're queer. They identify as lesbian, gay, bisexual, or trans+ and they might be struggling with this. Chill strives to provide the space for LGBTQ+ youth to feel safe, and to feel comfortable being themselves. This is one of the reasons you'll see Chill staff sharing their preferred pronouns; it's a way to indicate allyship, help normalize the practice, and create an inclusive work environment.
At Chill we strive for a welcoming place where everyone feels safe and comfortable, and we're proud to Celebrate Pride Month!