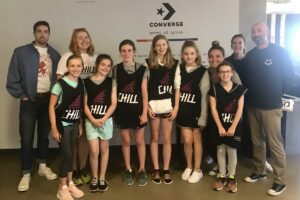 Despite having grown up in Boston, the six girls and their Agency Leads had never been down to the newly remodeled Lovejoy Wharf. Like so many other Boston residents, however, they recognized Converse's oversized roof-top sign as they passed over the Zakim Bridge.
The girls, who attend Leahy Holloran Community Center and the South Boston Neighborhood House, were at Converse for a community-based career exploration opportunity, a collaboration project between The Chill Foundation and Converse.
Chill, whose mission is to inspire youth to overcome challenges through boardsports, has been serving youth in the Boston area since 1997. What began as a single snowboard program has since expanded to three winter programs, along with stand-up paddleboard and surfing opportunities during the summer. Five skateboard programs were also held throughout the Greater Boston region this year, including the all-girls skate at Saint John Paul II Catholic Academy in Dorchester that the six girls at Converse had participated in.
The career day at Converse is part of a new community-based integration initiative that Chill launched in the Boston area this year, aiming to broaden the scope and number of opportunities that they can offer to their youth. Chill participants also explored career opportunities at Burton's Flagship Store, and will be partnering with the Mystic River Watershed Association to help clear invasive species from the city's rivers.
Mark Yates, who coordinated Chill's Boston programming in the early 2000's, now manages E-Commerce Operations for Converse. Having continued to volunteer with Chill over the years, he quickly extended the offer to bridge the gap between Chill's skateboard program and Converse's history in not only skating, but Boston-based sports in general.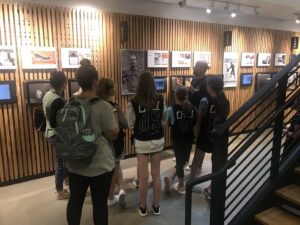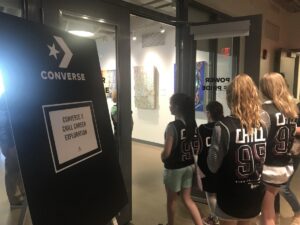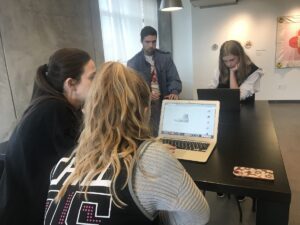 The girls were able to tour Converse's new World Headquarters, which includes hip workplace amenities like a coffee bar, bikes-to-borrow, and lounge-like work spaces. The company also hosts the work of local artists throughout the building, which it raffles off to help raise money for non-profits, and had a prominent display on it's main floor celebrating pride month.
At the end of the tour, Dani Lund and Craig Jackson from Converse's custom designs team sat down with the girls to help each of them to design a custom pair of their signature Chuck Taylors. The girls picked design that included a mix of bright colors, tie-dye patterns, and their names embroidered on the heels. The girls were stoked to find out that Converse would be making and sending out their custom kicks to each of the girls, an unexpected and generous surprise!
As they were leaving, the team asked which of the girls could see themselves working for a Boston-based company like Converse some day. Every hand in the group shot up.