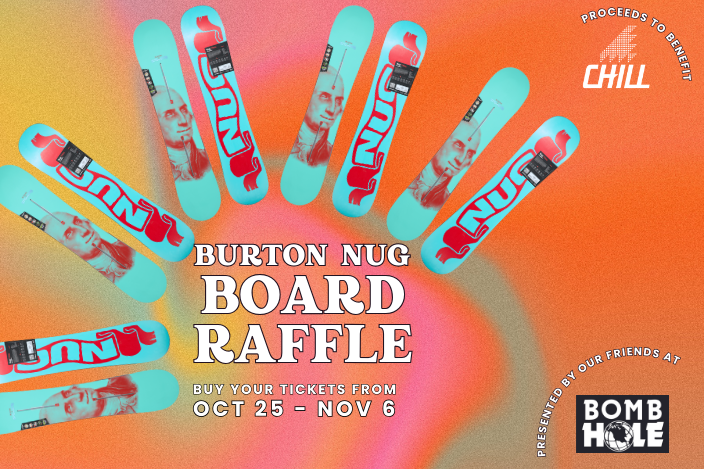 The thrill of the slopes is calling your name, and we've got the perfect opportunity for you! It's time to elevate your snowboarding game with our exclusive Burton Nug Snowboard Raffle presented by our friends at The Bomb Hole Podcast, in honor of their recently released Donna Carpenter episode. This 2013 board came directly from Jake's private collection. Buckle up, because this is your chance to win big and ride the mountains in style.
How to Enter: Entering the raffle is a breeze. Just follow these simple steps:
Click "Get Tickets" and purchase your raffle tickets.

Tickets can be purchased from October 25th beginning at 10am MST. Ticket window closes on Novermber 6th at 4:45pm MST 

Share the excitement with your friends and family.
Keep your fingers crossed and wait for the draw! 

Winner will be announced on November 6, 2023 at 5pm MST. 
—————————————–
Board Details: 2013 Burton Nug from Jake's private collection, Certificate of Authenticity signed by Burton archivist TK included. 
Less is more with this potent strain. The origins of the Nug have been shrouded in secrecy. What is known about this potent little number, and all straing of Nuggetry for that matter, is that you can downsize 8 to 10 cm for a quicker, more manuverable ride. Optimal breeding enables this hybrid to out-tweak, out-maneuver, and out-spin your normal board due to a complete retooling of shape, flex, and effective edge. Continuous rocker only adds to the addictive nature of this exotic freestyle subspecies. 

Size: 146
Bend: V Rocker
Shape: Twin
Flex: Twin
Core: Super Fly with Dualzone EGD
Base: Sintered
Glass: Triax
Feel: 4/10 softness 
Key Features: Nug Raduction – Downsize 8 to 10cm From Normal Board Length, Squeezebox, Side Effects, Jumper Caples, Scoop, Frostbite Endges 
MSRP: $420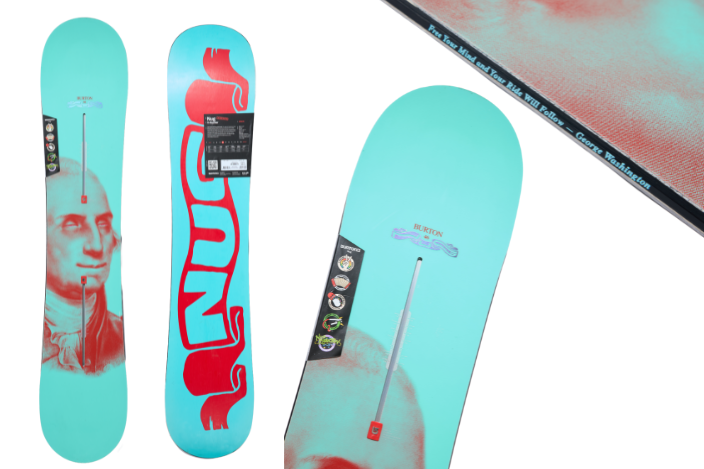 Don't wait any longer! Enter now and get ready to carve your way through the snow in style. Grab your tickets today.